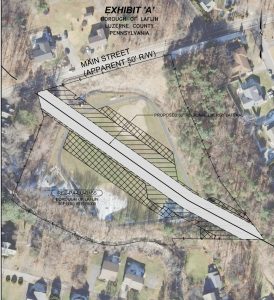 Williams Transco has started tree cutting along the right-of-way for the gas pipeline in Laflin Borough.  Williams REL representatives will be at our next council meeting on April 11th to answer any questions for residents.  Contact the borough office or Patrick McClusky, Williams Transco REL 908-930-6627 or Patrick.J.McClusky@williams.com before the meeting.
A larger route map is available at the borough building if anyone is having trouble viewing the smaller maps posted here or on the website.
The Federal Energy Regulatory Commission (FERC) gave approval to cut trees along the route but must give final approval and Notice to Proceed in April before actual construction on the gas line begins.
Tentative Schedule if FERC Approval is Obtained:
Tree Clearing along the Route in Laflin & Surrounding Communities –March
Gas Pipeline Construction – starting in April or May
Continued Construction with Truck Traffic – May to September/October
Estimated Completion – November 2023.
Once tree clearing starts, the Creekside Community Park walking track and ballfields will be temporarily closed during tree felling work but will reopen until gas line construction begins. The lower playground at Creekside Park will remain open to the public. In the interest of safety and security the footbridge will be closed when the ballfield/walking track is closed. The park will be closed for the duration of work once the gas pipeline is started.