Benefits of Municipal Recycling
Recycling Makes a Difference
Environmental problems have become so complex that many individuals feel they can have no effect on them. Problems like global warming, hazardous waste, loss of rain forests, endangered species, acid rain, the ozone layer, and the municipal waste crisis can feel out of our control. At the very least, these problems require group and corporate action or government intervention.
But there are some things the individual can control. Our waste reduction and recycling activities can make a difference. That's why over 1,700 Pennsylvania communities recycle, over three times the number required to recycle by Act 101.
Recycling makes a difference.
It's the right thing to do.
_______________________________________________________________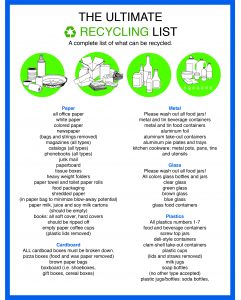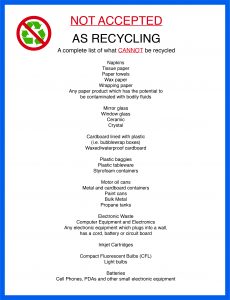 HOW TO PREPARE RECYCLABLES GENERAL RULES:
All bottles, jars and cans must be rinsed and clean. Remove tops.
Step on and crush plastic bottles and jars.
Do Not break or crush glass bottles and jars.
Labels may stay on all products. Remove tops.



What Do You Mean You Can't Recycle All Plastics??? 

Sorry, but not all plastics can be made into new items, so some can't be put in your recycling bin. But you CAN recycle most of the plastic containers in your home. * All plastic bottles and jars are recyclable. Remember when you would look at the bottom of the plastic bottle or jar for the triangle with a number in it? Here in Laflin Borough you don't have to do that anymore! If it's a bottle or jar…(that means it probably has a screw-on top)….RECYCLE IT!!
Please Throw Away the Tops.  Most of the time, the tops are made from a different material than the bottles and jars. This creates a problem for manufacturers who make specific items from the type plastic the bottles and jars are made of. The tops must be discarded.


Give the bottles and jars a quick rinse. 

Recycling is all about people. Recyclables are handled by those in your home…the workers who pick it up for you…the people who work at the recycling centers and manufacturing plants. Recyclables are not garbage, but items that will be made into new things by people. Do your part…simply rinse them out!
Laflin Borough, Luzerne County PA
Curbside Trash Collection

County Waste a GFL Company provides safe, prompt and dependable service to the Laflin Borough community.

Pickup Schedule: Tuesday

Limitations / Restrictions: 6 bags – extra bags require sticker

Other Notes: Cool ashes with trash collection

Bulk Item Collection

Furniture, appliances, carpets, tree limbs larger than 3″ in diameter but not longer than 36″

Pickup Schedule: First Collection Day of the Month

Limitations / Restrictions: 1 item per month

Single Stream Recycle

Plastic, clear glass, colored glass, aluminum, steel cans, cardboard and paper.

Pickup Schedule: Every other Tuesday (see calendar).

Yard Waste

Leaves, sticks, branches, twigs no more than four feet in length and less than 4″ diameter.

Pickup Schedule: Tuesday (hauled away with trash)

Limitations / Restrictions: within trash collection limitations
Holiday Service Exceptions:
Offices and operations are closed on Labor Day, Memorial Day, Independence Day, Thanksgiving Day, Christmas Day and New Year's Day. Some of our municipal contracts specify other dates that we are not allowed to service, but our offices will be open. In most cases, if you receive twice a week service and one of the above holidays falls on a collection day, you will be serviced on your next scheduled collection day. If you receive once a week service, collection will be moved to the next day.